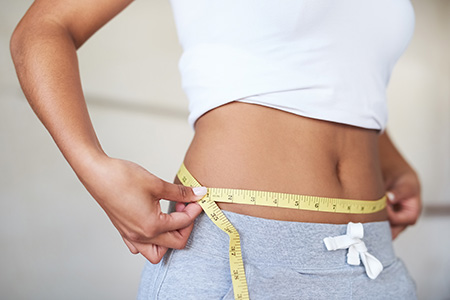 When you hear "medical weight loss," you might think it sounds a bit too clinical. But at Synergy Medical, our medical weight-loss program is all about providing one-on-one care, personalized attention, and working closely with each person to be sure their weight loss plan perfectly fits their unique needs.
Most importantly, you gain a coach and a compassionate team who support your emotional and physical needs, give you the information needed to reach your weight-loss goals, and motivate you to stick with the plan.
Learn what our weight-loss program does better than DIY diets.
Comprehensive evaluation
The best way to get off to a solid start on any type of weight-loss plan is with a comprehensive review of your physical health, your diet history, and your past challenges and successes with losing weight. Our in-depth evaluation allows us to create a personalized program based on your unique weight-loss concerns.
If we identify any problems that affect your ability to lose weight, such as a chronic health condition, hormonal imbalance, or nutritional deficiency, we can treat your condition and make sure that your weight-loss plan accommodates your health concerns.
Regular coaching
Studies show that having a weight-loss coach significantly improves your success. But you don't need a study to know that you can do better when you have a caring partner who offers encouragement when you hit a wall and motivation when you're tempted to quit.
We're different from DIY diets because we offer weekly coaching throughout your weight-loss phase. Then we continue to work with you as you move forward in life with a focus on keeping the weight off.
The goal of coaching is to give you all the tools you need to lose weight and maintain your healthy weight. The lifestyle habits you follow every day are the key to long-term success, so we help you:
Set realistic weight-loss goals
Develop a nutritious eating plan (with real food)
Create an exercise regimen you enjoy
Catch backsliding and make changes to get you back on track
One of the greatest benefits of coaching is that you can ask questions, get information, and have someone who holds you accountable. These are all essential components of a successful weight-loss program, and they're services you don't have in a DIY diet.
Personalized weight loss plan
You need a plan that works for you, so we tailor your program to your style and preferences. Your plan is one you can put into action. And most importantly, we make sure you have a plan that you can maintain throughout your life.
By comparison, DIY diets almost never work for the long haul. They're designed to help you lose weight as quickly as possible, usually with a one-size-fits-all diet that severely restricts calories and limits food choices.
The problem with DIY diets is that you're virtually guaranteed to regain weight as soon as the diet is over and you go back to eating your usual foods. Most DIY diets also lead to nutritional deficiencies and trigger hormonal changes that make it impossible to keep the weight off.
Simply put, your medical weight-loss program at Synergy Medical avoids all those pitfalls.
Pharmaceutical grade supplements
You might be tempted to buy weight-loss supplements in the local pharmacy. But off-the-shelf products don't come with the same quality guarantee as pharmaceutical grade supplements.
When we give you a supplement, you can be sure that it contains the ingredients that are listed on the label. You'll also have confidence knowing it's safe for you, and we fully explain how it works and the benefits you gain.
One supplement we frequently recommend is the Lipo Plus injection, which contains a combination of B vitamins and amino acids. Working together, they break down fat, raise your metabolism, and boost your energy.
Whether this is your first attempt at weight loss, or you've been on the diet roller coaster for years, our medical weight-loss program can help. Call us at Synergy Medical or book an appointment online today so you can take the first step of your weight-loss journey.