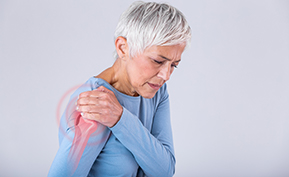 When you experience shoulder pain, it's most likely debilitating and affecting your quality of life. At Synergy Medical, LLC, Drs. Cooper can diagnose your pain and offer a broad range of treatment options. Book a consultation to see how chiropractic care and other therapies can help.
What can cause shoulder pain?
The shoulder is made up of several joints that combine with muscles and tendons. Many issues can cause shoulder pain, including:
Bursitis

Inflammation and swelling of the small, fluid-filled sacs located in your shoulder joint, caused by repetitive, minor impacts or from a sudden injury.

Tendinitis

Wearing down of the tendons in your rotator cuff (shoulder joint) or bicep, often occurring slowly over time.

Tendon Tears

Partial or completely split tendons resulting from sudden injury or changes in the tendons due to advanced age.

Dislocation or Instability

When the head of the upper arm bone comes out of the shoulder socket, causing too much range of motion. Dislocations can be partial or complete.

Arthritis

Swelling, pain, and stiffness causing restriction of motion.

Fractures

Often the result of a fall involving the collarbone, upper arm bone, or scapula.
Shoulder pain can also be caused by an issue in another part of the body, such as the neck. Shoulder pain that comes from the joint itself usually worsens with activity and movement of the arm or shoulder. On the other hand, referred shoulder pain, pain that arises from another part of your body, usually doesn't get worse when you move your shoulder.
When should I see a professional about my shoulder pain?
If your shoulder pain is accompanied by chest pain, nausea, or shortness of breath, you should call emergency services immediately.
If your shoulder is:
very painful
looks deformed
unable to move around normally
numb or tingly
Then you should call your doctor. Even if your pain is less severe but is affecting your range of motion or daily activities, it's a good idea to book a consultation at Synergy Medical LLC. Drs. Cooper will find out exactly where the pain is coming from, so you can begin a treatment plan that works for you.
How is shoulder pain treated?
While you can use ibuprofen to reduce inflammation and treat shoulder pain at home, it's not a long-term solution. Pain meds only treat the symptom, not the cause. At Synergy Medical LLC, you'll receive expert diagnosis and a variety of treatment options that might include:
Shoulder adjustments
Postural corrections
Rehabilitative exercises
According to the American Academy of Orthopaedic Surgeons, 90% of patients who experience shoulder pain respond to simple treatments such as changes to their activities, resting, exercising, and medication. Call Synergy Medical LLC today to learn more about shoulder pain diagnosis and treatment.
Request Your Appointment Today!
To request your appointment, please call (937) 400-2011 or contact us online today!
---
Our Location
Synergy Medical
16705 Square Drive
Marysville, OH 43040
Phone: (937) 400-2011
Shoulder pain doctors serving patients in Logan, Champaign, Madison, Delaware, Marion, Franklin Counties and the surrounding OH communities.