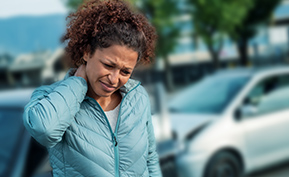 What Injuries Are Caused by Auto Accidents?
Auto and work accidents can introduce tremendous force and strain on the body that can result in a number of injuries. Trauma-related to an auto or work accident can affect the entire body. While some are more serious than others, pain and swelling are almost always a part of an auto-related or work injury. The most common types of auto injuries include:
Whiplash (tearing of the spinal ligaments and discs of the neck)
Many people who have been in accidents may also experience symptoms such as blurred vision, sleep disturbances, dizziness, irritability, and forgetfulness. It is important to have an assessment from a medical provider following an accident, even if you are not experiencing symptoms. Sometimes, it can take days or even weeks for symptoms related to an accident to be noticeable.
What Is Whiplash?
Whiplash is a common injury sustained in an auto or work accident. It is typically the result of an impact while stationary. The impact causes the head to suddenly jerk forward and back, putting a significant strain on the cervical spine and surrounding muscles and tissues. Whiplash is not a life-threatening injury but can result in significant and long-lasting pain and restriction of motion especially if left untreated. Symptoms of whiplash include:
Neck pain
Headaches
Tenderness and pain in the shoulders and back
Stiffness and a reduced range of motion in the neck, shoulders, and upper back
Synergy Medical Relief has Whiplash Chiropractors and Therapists to help you get the pain relief treatment you need.
How is Whiplash Treated?
Treatment for any auto or work injury will depend on the unique condition of each individual patient. The healthcare providers at Synergy Medical will perform a thorough evaluation to determine the extent of your injury and the pain you are experiencing.
Treatment may include manual adjustments, massage therapies, and rehabilitative treatments and exercises. It is important to seek care as soon as possible following an accident as most injuries and related conditions can be managed and treated more easily in the early days before the body compensates for the injury and ends up causing more discomfort in different parts of the body.
Request Your Appointment Today!
Don't postpone. Get relief today! We are providers for the Ohio Bureau of Workers Compensation and work with many personal injury and workers compensation attorneys
To request your appointment, please call (937) 400-2011 or contact us online today!
---
Our Location
Synergy Medical
16705 Square Drive
Marysville, OH 43040
Phone: (937) 400-2011
Car accident chiropractors serving patients in Marysville, OH and the surrounding Northwest and Northside of Columbus communities.