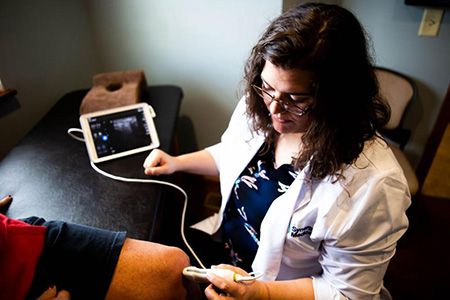 "I am the medical provider at Synergy Medical. We offer treatment options for chronic joint pain that aren't painful surgeries or addictive medications.
One of these options is called regenerative medicine therapy.
I wanted to answer some of the common questions I get regarding this therapy offered at Synergy Medical."
- Catherine Earl PA-C -
---
What exactly is regenerative medicine?
Regenerative medicine promotes the healing and repair of damaged and painful joints and tissue, by directly injecting this therapy into the affected joint. This type of therapy is used to prevent our patients from needing costly, painful and often unsuccessful surgeries.
---
Where does our product come from?
Our regenerative medicine product comes from the wharton's jelly of the umbilical cord during a c-section delivery. The product is then donated for further testing and screening. This therapy does NOT come from aborted fetuses.
---
How long until I feel better?
Regenerative medicine therapy relies on the body's ability to heal itself. And as we know, healing takes time and is often different for different people. In general symptom relief starts within the first month and the healing process lasts for 6 months or more!
---
What happens after my regenerative medicine injection?
This is the amazing thing about this therapy-it isn't surgery! You can go about your day to day life. I usually tell patients to rest for the few weeks whenever possible. But, you don't have to take time off work!! Sometimes patients are recommended rehab and other treatments as well which starts a few weeks after the injection.
---
Do I need to stop any of my medications?
Most over the counter and prescription medications are safe to take with regenerative medicine therapy. I always review my patient's medication lists before their procedure. The only types of medications that need to be held are anti-inflammatories/NSAIDS. Most people know these as Motrin, Aleve or Advil. These are generally held two weeks prior to the injections and for about four weeks post injection. This is because regenerative medicine therapy requires inflammation in order to know where to go to work.
---
Request Your Appointment Today!
If you are suffering from joint pain and don't want to go through painful surgery or a joint replacement, call (937) 400-2011 to set up an appointment today!